Main Content
Meet
Katie

Reid

Katie Reid is no stranger to going the extra mile and helping families. She has spent half her life serving the future of tomorrow: the children. As an educator for 18 years, Katie has lent a helping hand to make sure her students had all they needed. Throughout her career, Katie served as a liaison between families and the school, bridging the gap in communication and gaining the trust of the parents to allow their children to get the help they needed.

Over the past three years, Katie has individually closed over 115 deals throughout the metro Atlanta area to include several families who relocated from other states. In these unprecedented times, having an experienced realtor represent you is imperative. She owes her success to keeping in constant contact, communicating effectively, and making decisions and recommendations based on what is best for the client. Her focus is always to treat every client like a family member. Her approach includes combining strong negotiation skills and marketing expertise to get the results their clients expect, while making the experience pleasant and rewarding.

Learn More +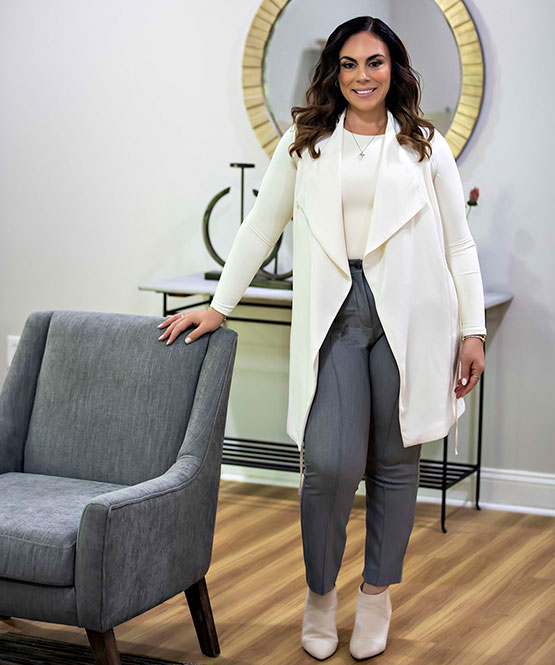 I can't speak highly enough of my experience with Katie Reid! I was a first-time homebuyer with very little knowledge about how to find the right place. I met with a couple of realtors before Katie, but knew instantly that she was the one for me. I told Katie my must haves and she knocked it out of the park! She is honest and hands-on (she even handled inspections for me when I could not be there!), and she really helped to take the pressure off the process. I never felt forced to make an offer and when we finally found the ""one"", Katie walked me through every step of the negotiations, and her knowledge made the process seamless. Whenever I come across people looking for homes or thinking about selling, I always recommend Katie to them!
Narkieta Perry
Katie Reid made the home buying experience very smooth. I was a first time buyer and didn't know much, but she kept me well informed and gave me the resources I needed to make the right choices. You cannot do much better than Katie
Wesley C. Sparks
Katie Reid is phenomenal!!! She is kind, courteous, professional, and very knowledgeable! She assisted us through the selling/buying process and helped to ease any concerns that we had. I highly recommended her services to anyone. Thank-you Katie for everything that you've done for us!!!?❤️
Donna Davis
Katie Reid is an awesome realtor. She walked with us every step of the way towards reaching our dreams of owning a home. She was available to answer all questions! Her customer service is above excellent!
Tiffany Moring Ellington
Katie Reid assisted us with a total of 3 real estate transactions: she sold our land, then our house, and then she walked us through the journey of purchasing our new home (new construction.) Katie was there for us every step of the way. Katie is unsurpassed in customer service and extremely knowledgeable. We would use her again if the need arose. We would highly recommend her for all of your real estate needs!!
Jackie Scalia Sparks
Katie Reid was an amazing person all around. She was very knowledgeable and caring when it came to anything i had questions or concerns about. Katie also made my first time buyer process very easy. I would definitely recommend her for any job. Thank you Katie.
Nakia Jarshay
I am a first time buyer and Katie Reid is a outstanding realtor. She made it easy and quick to find my home especially coming from another state. I would recommend her to anyone who is looking to move. 5 ?.
Takisha Kidd
I closed on a home with Katie this month and she was absolutely awesome!! From the first initial step, all the way to closing, Katie answered every call. Her confidence and knowledge of what she does allowed me to actually enjoy the process of becoming a home owner. No challenge was too great for her. I would recommend her to everyone I talk too!! On behalf of myself, wife, and daughter Kenya, Katie......we just want to say....... THANK YOU!!!! WE LOVE ?❤??? OUR NEW HOME.
Archer Gerard
2020 was a very ' interesting' year to say the least and was when my husband and I decided to move. ??‍♀️ It was definitely a process that our awesome realtor, Katie Reid, PATIENTLY helped us through. ?
I would recommend her and LaGrone to anyone looking to buy or sell! Thank you so much, Katie for helping us get our home. ?
April Davis
I closed escrow on a home with realtor Katie from LaGrone Realty yesterday. Katie and her company made the process seamless, kept me up to date and answered any and all questions that I asked. If I ever buy another home again I would use LaGrone Realty and will refer this company to others.
Regina Walker Evans
Send Us AMessage
Get exclusive up to date real estate market trends and opportunities in Atlanta, GA.